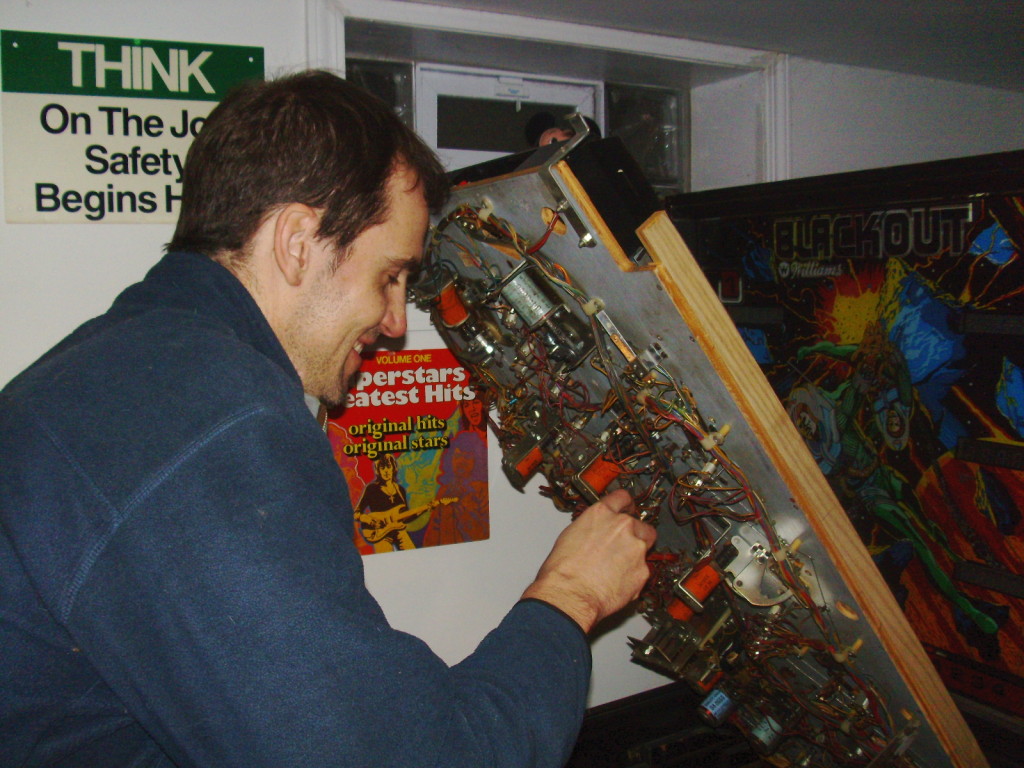 Repairs:
House Calls are my specialty!  Most games can be repaired in home and every attempt is made to repair them in one trip if possible.  In most cases, I can be to your place within just a few days after we find out what your needs are. I repair all makes and models of Pinball Machines (This includes models from 1950-present)  and have repaired and restored well over 1000 machines and still going strong.  You can also bring the machine to us (See restorations below). Most importantly all repairs are done with a SMILE. I want to make sure you are happy and your game is working to bring you many hours of fun!
Restorations:
Many games that have been damaged, have major problems, sitting idle or in storage (Especially pre-1980's or Electro-Mechanical machines) often require a full restoration that will require the game be taken in-house for a longer term repair/restoration and testing. This allows for enough time to thorough cleaning, tuning, repairs and most importantly testing for maximum reliability (After are we are talking about machines that are 40, 50, or even 60 years old) for your enjoyment!
Typical Rates:
There's no stuffy boss here and because all I do is pinball, I'm able to get to you quickly: $75 for the first hour – $60 each additional hour for most services. Service includes travel within the Grand Rapids area. If you're outside of Grand Rapids, no problem at all, there will just be a small travel charge based on distance! This includes Grand Rapids, Muskegon, Holland, Sparta, Greenville, Wayland, Ionia, Kalamazoo, Lansing, Flint, Battle Creek, South Haven, St. Joseph, Mt. Pleasant and many of our other fine communities along throughout West Michigan, Mid and Southern Michigan and Southwest Michigan.  Trips are also be made to Northern Michigan.  Traverse City, Cadillac, Petoskey, Charlevoix, Gaylord just to name a few – and farther with special arrangements.  If you prefer to bring the game to us, the shop rate is $50/hr. We are located just west of downtown Grand Rapids, and also have another facility on 29th St in Kentwood.  I accept cash, check and all major credit cards and cookies are always welcome!
Cleaning/Tune Up:
Same rates apply for cleaning and can be done at the same time as a repair – you'd be amazed at what a little cleanup, new bulbs, new rubbers and pinballs will do for your game!
Parts:
I carry many common parts on each trip, and if we know ahead of time what your game might need, I can usually have the "special order" parts ready to go as well.
Moving:
If you need a machine moved, up the stairs or across town, I can help with that too!
Non-Pinball Repairs:
I get many requests to fix video games, bowlers and even freezers! For video game repair, we work in partnership with 616 Amusements who can service most video games. Otherwise, I'll be glad to take a look at them and see if I can be of help, but keep in mind I don't carry parts on hand for these type of repairs but can refer you to the proper people for help if I cannot.
Please Matt@grpinball.com or call (616) 735-3599 to get started!